(UK text below)
Danke an alle Motorradfahrer und -fahrerinnen, die am letzten Wochenende, besonders am 4. Juli 2020, überall in Deutschland mit ihrem Motorrad unterwegs waren und immer friedlich, unterschiedliche Städte im Land »besucht« haben. Jeder und jede von euch, hat eine großartige Botschaft auf die Straßen gebracht. *(English text in the gallery.)
Nutzt die kommenden Tage und Wochenenden weiterhin.
Fahrt mit eurem Motorrad!
Ob zu eurem Job oder zu einem der vielen schönen Punkte die es zu entdecken gilt, um in diesen »interessanten Zeiten« zu Atem zu kommen, den Wind zu spüren und weiterhin eine Botschaft zu senden.
Ladet Freunde ein, fahrt mit Freunden. Macht alte Motorräder wieder flott, fahrt neue Motorräder sorgfältig ein und – kommt ins Gespräch mit anderen. Quatscht Benzin. Egal was euer Gegenüber trägt: Einteiler, Goretex oder Retrojacke. Jeder und jede die ein Motorrad bewegt, hat eine gute Geschichte dazu auf Lager. Eine die es Wert ist an einem Treffpunkt, in einem Cafe am Straßenrand oder bei der Tankpause erzählt zu werden. Und, lasst die gute und allererste Tradition aller Motorradfahrer wieder aufleben – stoppt, wenn jemand Hilfe braucht. Daraus werden dann meist die besten Geschichten.
Und bitte – fahrt konzentriert und sicher. Jeder Unfall ist Wasser auf die Mühlen von Motorradgegnern. Ob unverschuldet oder nicht, diese sehen darin keinen Unterschied.
Thank you to all motorcyclists who were on their motorcycle all over Germany last weekend. Especially on July 4th, 2020 and who, always peacefully, »visited« many different cities in the country. Each and every one of you has brought a clear message onto the streets.
Keep using the coming days and weekends.
Ride your motorcycle!
Whether to your job or towards one of the many beautiful places to be discovered. In order to catch your breath, feel the wind and continue to send a message in these »interesting times«.
Invite friends, ride with friends. Make old motorcycles ready to run again,»run-in« new motorcycles carefully and – talk to others. As we say in Germany: »Benzin quatschen« – blether gas. No matter what your counterpart wears: One-piece, Goretex or retro jacket. Everyone who rides a motorcycle has a good story in store. One that is worth telling at a meeting point, in a cafe at the side of the road or during a petrol break. And, let the good and very first tradition of all motorcyclists revive – stop when someone needs help. This usually turns into the best stories.
And please – ride concentrated and safely. Every accident is grist to the mill of motorcycle opponents. Whether without one's fault or not, for them there is no difference.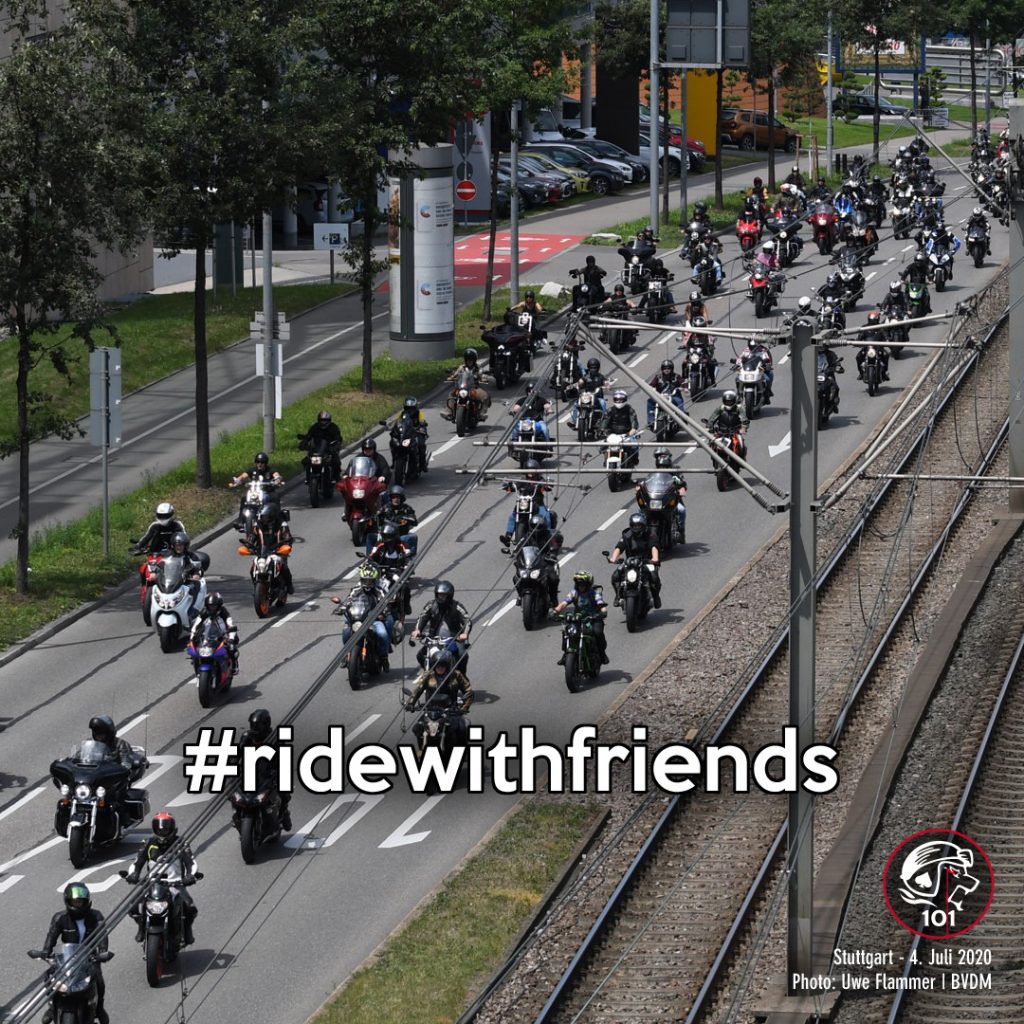 Lions and lionesses
Steven and Team Glemseck 101 wishes you a good and safe journey.
📸 Uwe Flammer – BVDM – Danke sehr!
Location: 1. Juli 2020 – Stuttgart

Mehr Bilder und viele weitere Informationen zum Thema Motorradfahrverbot in Deutschland: BVDM – Bundesverband der Motorradfahrer e.V.

*All links to Facebook