CAPE TOWN. METROPOLIS AT THE END OF AFRICA. YOU HEAR ABOUT WATER SHORTAGES. APARTHEID. CRIMINALITY. BUT ALMOST NOTHING ABOUT THE MOTORBIKE SCENE THERE. BIKE ENTHUSIAST STEVEN FLIER TOOK A LOOK AROUND FOR FUEL.
I'm leaving my family. There's no other way to describe this feeling in my belly as the taxi takes me back to the airport via the N2. I have a brief flashback as I look at this band of asphalt, one of the great arteries of Cape Town, ahead of me. One of the most beautiful and at the same time most ugly, most creative and most chaotic cities in the world.
Days beforehand I had been travelling on this same N2 on a little TTR 250 when its dying engine reminded me that I had forgotten a few basics of biking: set off with a full tank and before beginning your journey check that the tank is not set to 'reserve'. Thank goodness it didn't stop. A few kicks and the single cylinder engine is soon hammering away again. I find myself in the middle of nowhere and have no idea how many kilometres the TTR will continue to carry me. So I leave the N2 across the hard shoulder and give free rein to its off-road genes over the steppe-like plain. On the left, a kilometre away, a township stretches out endlessly. It's still Cape Town. The other Cape Town. Not the tourist dream and very far from the fantastic coast and the "Waterfront" shopping attractions. From here you can see Table Mountain just as a small rise in the distance. I'm glad I'm riding the TTR.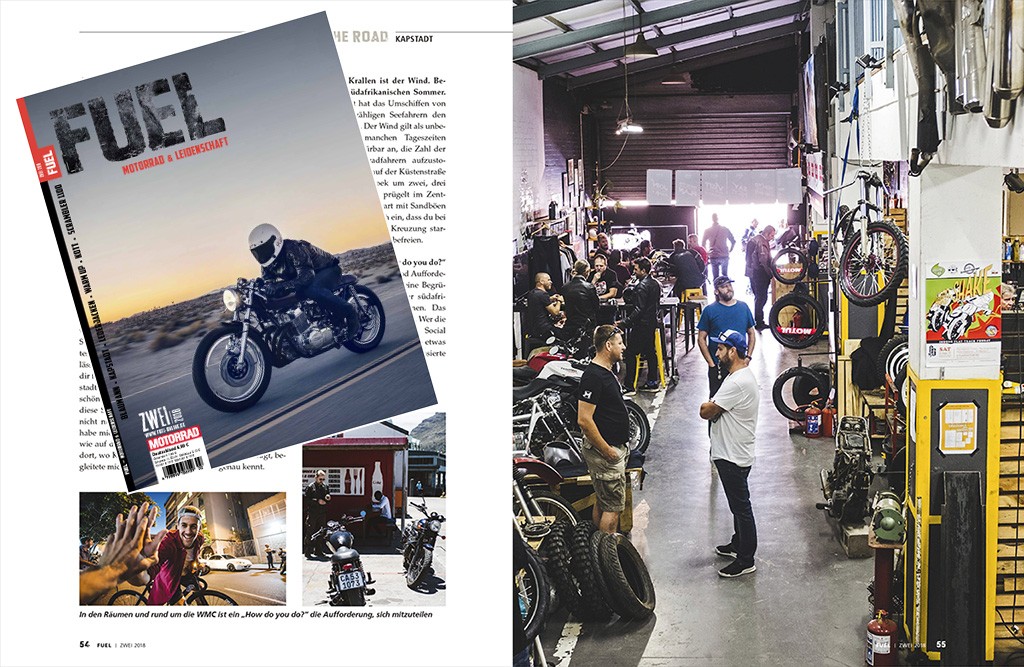 Woodstock Moto Co., or WMC for short, the home of that TTR, is a dream and an idea in the shadow of Table Mountain. It's Devin Paisley's dream. Devin, professional model and photographer by trade, was born in South Africa and has motorbike DNA in his blood. Apart from that, he's a man with strong social and ethical values. You can hear it in every conversation you have with him. Especially if, like me, you have the great good fortune of being accompanied by him on a motorbike tour around Cape Town. He is a source of knowledge. Not just on the subject of motorbikes but also about the history of South Africa and of Cape Town. The past as current affairs. From the glittering moneyed boulevards to the narrow alleys of a ragged township. Devin founded WMC in order to bring motorbike fans together. To push aside social barriers and to show that motorised forms of two wheeled transportation can be one of the best transport alternatives for everyone in South Africa, and especially in the traffic chaos of Cape Town. He is a visionary and firmly believes in this idea. In his workshop "New Riders Table" he speaks out openly against "wild west behaviour", leaving the highway across the hard shoulder (sorry, Devin!) or driving without registration or insurance. He calls for people to wear protective clothing, lectures on accident prevention and improving riding skills.
In Cape Town it's easy to realise an idea like bringing the WMC to life. In this city, start-ups ramp up faster than the rev count on a nitro dragster. You start out at the beginning of the week, by Wednesday have your first customers, at the weekend you are the talk of the town – and the following week you're already history. That's what makes the development of the WMC unusual. Started around five years ago as "Man Cave" and do-it-yourself bike workshop for members, the WMC is now Cape Town's meeting point and social media network for anyone and everyone on two wheels. With a coffee shop, workshop, tyre service and a broad range of expertise and regular workshops on the issue of riding bikes in South Africa.
COMMUNICATION IN CAPE TOWN IS FAST AND #HASHTAGS ARE THE FUEL
Anyone who has an aversion to social media apps on their smartphone should set these aside right from the start in Cape Town. Communication here is fast and takes place primarily via Instagram, hashtags and WhatsApp. A random example? When I had just arrived in Cape Town I was looking for some wheels. I wrote to a few shops: "Need a motorbike. Have you got anything?" Kyle Scott of Wolf Motorcycles offered me a Triumph Bonnie and Scrambler. He wrote back: "Scrambler. In front of my door."
And since I had hardly ever used Instagram before my visit I am forever being mocked: "Steven, Facebook? You do know we're in 2018, right?" wrote Wesley, a freelance journalist who writes for Bike-EXIF amongst others. A few hours later I have a dozen Instagram contacts and the question of what a hashtag like #makelifearide is supposed to mean is superfluous. In South Africa people don't share pictures of their meals on Instagram but information. Hashtags are one of the many reasons why Devin's idea of the WMC is alive and developing: #themotosocialcapetown and #riderstable are monthly events which Devin and the members of the WMC organise around Cape Town – and a must for anyone on the road on a motorbike on that day. What bike you're on is completely irrelevant. In South Africa people ride anything and everything. Old or new. Big off-roaders are popular and anyone who drives something else often also owns a nimble little grasshopper (#smallbikesbigfun). There is a big second-hand market online yet here, too, the age of the bargain – like an XT 500 for next to nothing – is long since passed.
The WMC is situated in Woodstock, one of Cape Town's booming districts. "Five years ago the rent on the hall was cheap. These days it's still affordable. But real estate prices here in Cape Town are shooting up and the South African rand is still depressed. Good for speculators and tourism, bad for long-term planning," explains Devin. The plots of land on long-term lets, the members, merchandise, donations and coffee shop go some way to covering his basic costs. The rest is "easy money" grins Devin, gurning. He finances the development of the WMC through his modelling job. "Woodstock is not changing as quickly as the district of Seapoint, for example," he explains. "Perhaps partly because the parallel street to the WMC was, not so very long ago, known as the second most dangerous street in the world." I regard his now really broad grin with eyes as big as saucers, because twice now I've taken a casual stroll along that street. "No worries, I would have told you before if it was still like that." This is also how Cape Town and the Western Cape is for the visitor. Breathtakingly beautiful like a big cat. You must never forget that this city is not domesticated and that its claws are not just for decoration. Nevertheless, let me make one thing clear: I never felt unsafe in Cape Town. But on foot, as on the bike, I was always alert. And Devin, who knows this big cat intimately, accompanies me on a visit to the place where Cape Town wears its claws on open show.
CAPE TOWN IS A BEAUTIFUL, UNDOMESTICATED BIG CAT WITH CLAWS WHICH AREN'T JUST FOR DECORATION
One of these claws is the wind. Particularly in the South African summer. There's a reason why sailing around Cape Horn did for countless seafarers. The wind has a reputation for being unpredictable. At some times of day it makes a noticeable effort to ramp up the number of dead with bikers. On the coastal road towards Fish Hoek it can blow you sideways two, three metres and in the centre of Cape Town it whips you with gusts of sand from all sides so much that you will set off across a busy junction against a red light just to get away from it.
The South African "How do you do?" is actually more of a question and request to share your information than a purely formulaic greeting. Particularly among South African bikers. People are genuinely interested in the person they are talking to. Anyone who comes into the WMC or who takes part in the social media meets and opens up a little will quickly find interested listeners and conversational partners.
Everyone connected with the WMC has a particular word in common: incidentally. When I mention that I would incidentally like to ride to the Swartberg Pass at the weekend since it's really not so far away, tyre dealer and GS 1200 rider Henk Kotzee says, "Of course, we can do that incidentally. Do you want someone to come with you?" Instead of telling me that the pass is 500 kilometres away. Next day I then learn from his wife, who accompanies us on this road trip on her F 800 GS, that Hank "incidentally" has his own off-road motorbike TV series in South Africa, "Look What You're Missing." Is there anyone in Cape Town who doesn't do something "incidentally" or who isn't interested in something outside of his or her own immediate sphere? Very likely. But I didn't meet any.
Being interested in something is typical for this country. Even if it's just with a wave of the hand and a brief nod. With just hot air left in the tank of the TTR, I at last reached this township fuel station somewhere in the no man's land of the N2. On the neighbouring car park there is a small Japanese car issuing oil smoke and steam. Three men are working on it. When they see me one of them gives me a thumbs up. I wave back. The pump attendant also gives me a thumbs up and a laughing "Cool ride, man!" In South Africa, laughing and smiling is the best form of communication. Sitting on a bike while you do it makes international understanding even easier. But I make a mistake after all. Every bit the tourist I go into the shop of the filling station to buy water. Barbed wire and metal grille wherever you look. Half a dozen pairs of eyes are turned towards me. I raise both hands, smile and say something like, "Sorry, I think I'm in the wrong place." The sturdy, dark skinned woman behind the heavily barred counter just gives me a single look that says a lot: Yes, boy, you really are a long way from home.
And she was right. I was only able to take a quick peek into the life of the city and let myself be borne away from its chaos on a variety of motorbikes, with pleasure as well as with tension. I know about the problems facing the city and South Africa, particularly now. The risk of Day Zero, Cape Town without water, is real. And there's the new government's very questionable political discussion concerning a change to the constitution which would permit the expropriation of farmland, most of which is in the hands of white farmers. Despite all the problems which exist and which are still to come, thanks first and foremost to the many passionate and optimistic people that I had the pleasure of meeting in the city and this country, I felt at home there.
WOODSTOCK MOTO CO.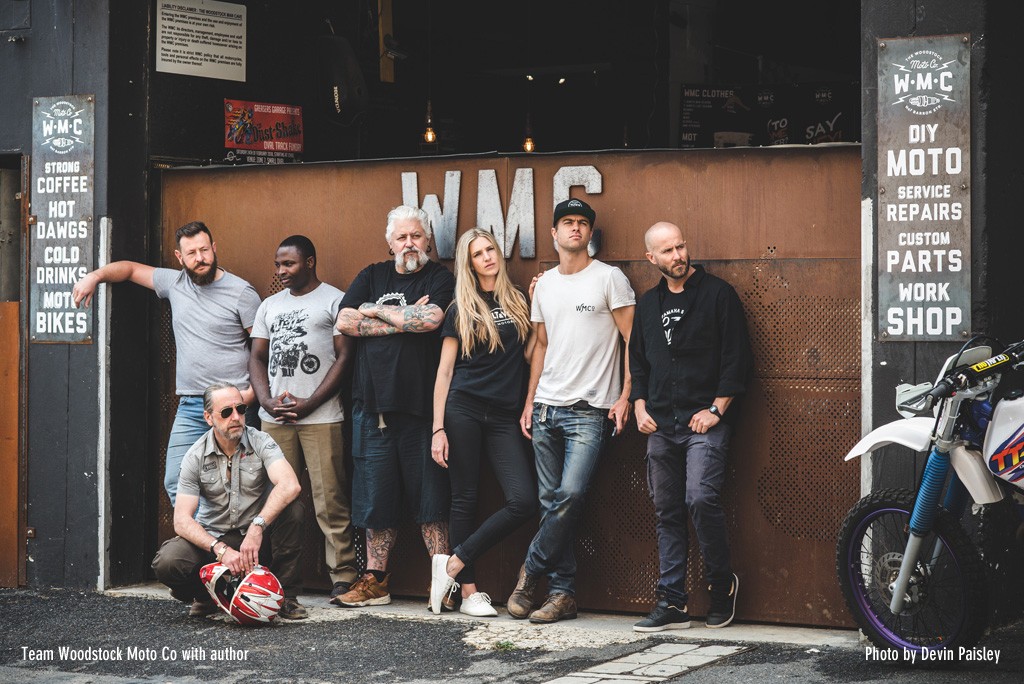 The WMC at number 7 Barron Street is a motorbike community, a do-it-yourself motorbike workshop and coffee shop meeting point in Cape Town's district of Woodstock. Here, over a good cup of coffee and a sandwich, you meet people from all around the world – and find help, advice and tools if your own bike is giving you problems. Web: woodstockmoto.co
THANK YOU & CREDITS
Without the help, the friendship and the patience of many WMC members, Cape Town riders and the editors of FUEL this story would never had been written and published.
First of all: Devin Paisley and his beautiful – now – wife Sanela (they get married only weeks ago. Congrats!) Thanx for all the background informations, the kindness, the fun and your great place in Seapoint I could stay. And of course for the motorbikes: The grasshoppers Suzuki TTR and Honda Tornado, and this wonderful blue and sparkling Honda CX500 Coffee-Racer.
To Henk Kotzee and his wife Megan Kotzee. If you ever want to go Heavy-Duty-Off-Road in South Africa, they are the BMW-SWAT-Team to choose by your side. I had a great time with them on my weekend to Swartberg Pass. And Henk, as the tire- and off-road-pro of the WMC had to repair all three(!) flat tires I produced on-road(!) while in Cape Town. Uhh … I remember his comment very well: "What's the problem with you and tires?" :)))
To Kyle Scott from Wolf Motorcycles. Thank you for trusting me to bring back the Scrambler and Bonnie in one piece. If you need a bike for Cape Town, Kyle is the guy to ask. His home base is in the House of Machines Coffee-Bar in the center of Cape Town.
To Milo "Mr Lucky" Marcer and his Greasers Garage inside the WMC. He is a Cape Town tattoo artist – Mr. Lucky Tattoos – and organizer of the "Dust Shake". If you are in sand, dirt and speedway, he and his wife Nicci Kruger are the people to talk too.
To Wesley Graham Reyneke, senior editor from Bike EXIF and hell of a fast-talker, great dad and knows-it-all 🙂 And while we speak about fast-talking – he is hell on a bike too. Thanx for the little fun-race up Red Hill!
To Jens from Hyde Design Cape Town. Great guy to talk and designer for stuff in everyones life – and two fantastic BMW custom bikes.
And a very special "Thank You" to Teresa McGregor – also a designer – and her husband. Thanx for all the nice talking and support while I was hanging around the WMC, drinking coffee, writing and trying to look clever 🙂
Last one to an important man. Without him this story would not be perfect in wording and printing. Rolf Henniges, Chief editor of FUEL (fuel-online). Thank you so much for your support, help and permission to go online with the English version of this story while issue two of FUEL is been published.
There are many more "Capies" and South African people I had the luck to meet. Within the WMC and on the roads in and around Cape Town. Thank you all. Hope to come back soon and see you all again.
ABOUT THE AUTHOR
I'm no editor. I'm just a storyteller and a motorcycle enthusiast. Besides my job as a designer in my own Graphic Studio and as the Creative Director of the Glemseck 101. One of the biggest motorcycles and 1/8 mile sprint happenings in Europe. If you liked my storytelling and are in motorcycles too, feel free to get in touch with me over Facebook or Instagram. If you liked my storytelling so much that you want me to tell the story of your bike or place – just ask. If you are a rider and travel to Cape Town – as this story tells – the first place to go is Woodstock Moto Co.
Have fun and make life a ride
Steven