🇩🇪 Lieber Besucher,
🇬🇧 (International visitors, please scroll down … )
danke für Ihr Interesse an meinen »Illustration / Artworks« und dass diese vielleicht demnächst eine Wand in Ihrem Heim oder Ihrer Garage schmücken.
Ich lasse über den Deutschen Anbieter myposter produzieren. Ich habe selbst schon zu privaten Zwecken dort großformatige Bilder und Grafiken auf unterschiedlichen High-Quality Materialen drucken lassen (Acryl-Glas und Gallery-Bond) – und das Ergebnis war immer einzigartig. Natürlich bietet MyPoster auch normalen Posterdruck an.
::: Preise
Da meine »Artworks« auf unterschiedlichste Art und genau nach Ihren Wünschen produziert werden können, orientiert sich daran der Preis.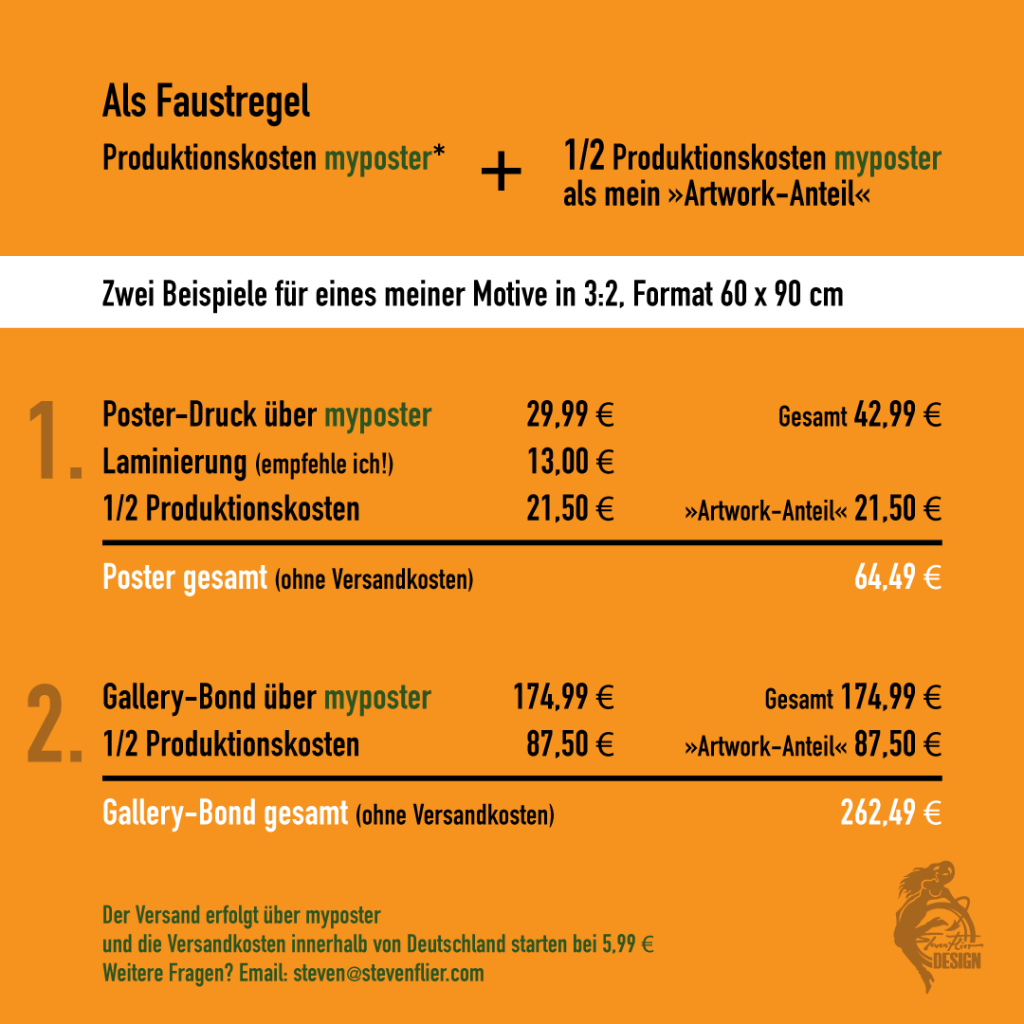 ::: Von der Anfrage bis zur Lieferung
Schritt 1: Besuchen Sie die Seite von myposter und suchen Sie sich ihr passendes Material / Produkt aus.
Schritt 2: Schreiben Sie mir eine Email. Ihr gewünschtes Motiv und wie es von Myposter produziert werden soll.
Schritt 3: Ich antworte Ihnen zeitnah mit einem Angebot.
Schritt 4: Sie bestätigen mir das Angebot und ich sende Ihnen zeitnah eine Rechnung zu, welche alle Kosten, auch den Versand, beinhaltet.
Schritt 5: Sie überweisen mir die Rechnung per Bank oder PayPal (am schnellsten).
Schritt 6: Nach Buchung Ihrer Zahlung gebe ich Ihr Motiv und nach Ihren Vorgaben bei myposter in Auftrag.
Schritt 7: Etwa 7 bis 10 Tage danach, bekommen Sie Ihr Kunstwerk von myposter geliefert.
eMail —> steven (a) stevenflier.com
::: FAQs zu meinen Artworks
Kann ich mich von Ihnen zu Druck und Material beraten lassen?
Ja sicher. Schicken Sie mir eine eMail.
Ich benötige ihre Artwork in einem anderen Format.
Grundsätzlich sind viele meiner aktuellen und noch kommenden Motive auf unterschiedliche Formate anpassbar. Manche sind auch dekorativ zum aufteilen (mehrteilige Bilder). Schicken Sie mir gerne dazu eine eMail mit Ihrer Anfrage. Was ich allerdings nicht mache: Kleine Formate, alles unter A2 60 x 42 cm. Meine Motive möchten präsentieren werden.
Ich benötige eine Widmung.
Eine persönliche Stift-Signatur kann ich leider nicht anbringen. Aber gerne dezente Vermerke am Bildrand um das Motiv, zum Beispiel als Geschenk, zu personalisieren. Der Aufwand dazu beträgt 10,00 €.
Ich freue mich auf Ihre Anfrage.
Ihr Steven Flier
*Produktionskosten myposter: Manchmal bietet myposter bestimmte Formate und Materialen zum Sonderpreis. Mein »Artwork-Anteil« richtet sich immer nach dem offiziellen Preis.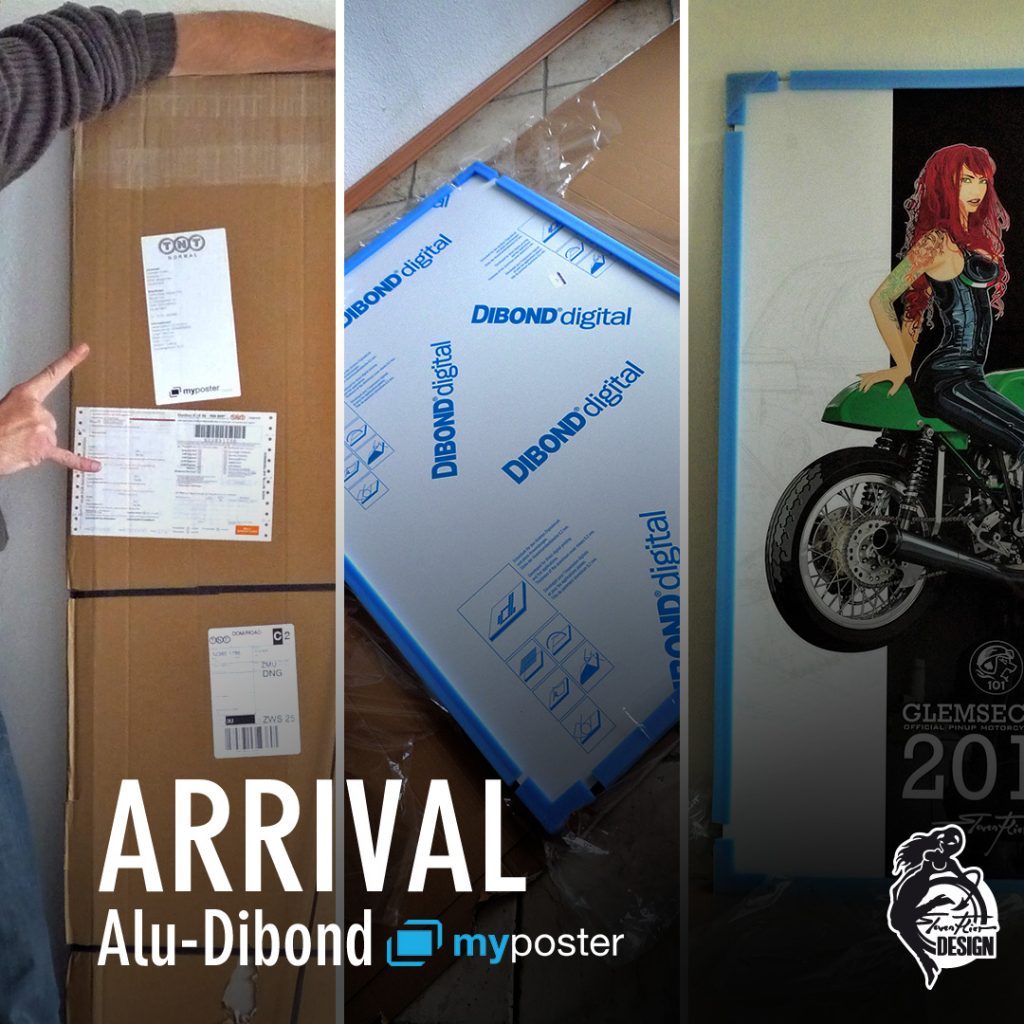 🇬🇧 Dear visitor,
thank you for your interest in my »illustration / artworks« and that they may soon decorate a wall in your home or garage.
I have my prints produced by the German provider myposter. I have already had large-format pictures and graphics printed on different high-quality materials (acrylic glass and gallery bond) for private purposes – and the result was always unique. Of course, myposter also offers normal poster printing.
::: Pricing
Since my »artworks« can be produced in many different ways and exactly according to your wishes, the price is based on this.
::: From the enquiry to the delivery
Step 1: Visit the myposter website and find the material / product that suits you best.
Step 2: Write me an email. Your desired motif and how it should be produced by Myposter.
Step 3: I will reply promptly with an offer.
Step 4: You confirm the offer and I send you an invoice promptly, which includes all costs, including shipping.
Step 5: You transfer the invoice to me by bank or PayPal (fastest).
Step 6: After your payment is booked, I commission your motif according to your specifications to myposter.
Step 7: About 7 to 10 days later (Germany), you will receive your artwork from myposter.
eMail —> steven (a) stevenflier.com
::: FAQs about my artworks
Can I get advice from you on printing and materials?
Sure. Send me an eMail.
I need your artwork in a different size.
Basically, many of my current and upcoming illustrations can be adapted to different formats. Some are also decorative to split (multi-part images). Please send me an email with your request. What I don't do: Small formats, everything under A2 60 x 42 cm. My illustrations want to be presented.
I need a dedication.
Unfortunately, I cannot add a personal pen signature. However, I am happy to make a discreet notes on the edge of the image to personalize the artwork, for example as a gift. The cost for this is € 10.00.
I look forward to your request
Your Steven Flier
*Production costs myposter: Sometimes myposter offers certain formats and materials at a special price. My »artwork-share« is always based on the official price.