Ich nenne es »Löwe Nr.1 Cafe Racer«. Mein neues »radikales« Vektor-Kunstwerk – 🏁🔥 – Insgesamt sind drei Löwenmotive in diesem Stil, clean & schwarz-weiß, von mir geplant. Am Ende soll eine sehr dekorative Artwork-Serie für jedes Wohnzimmer, jede Garage eines echten Petrolheads stehen – 🤜🤛 – for staying tuned!
I call it »Lion No.1 Cafe Racer«. My new »bad to the bones« vector artwork – 🏁🔥 – A total of three lion motifs in this style, clean & black & white, are planned by me. The end result should be a very decorative artwork series for every living room, every garage of a real petrolhead – 🤜🤛 – for staying tuned!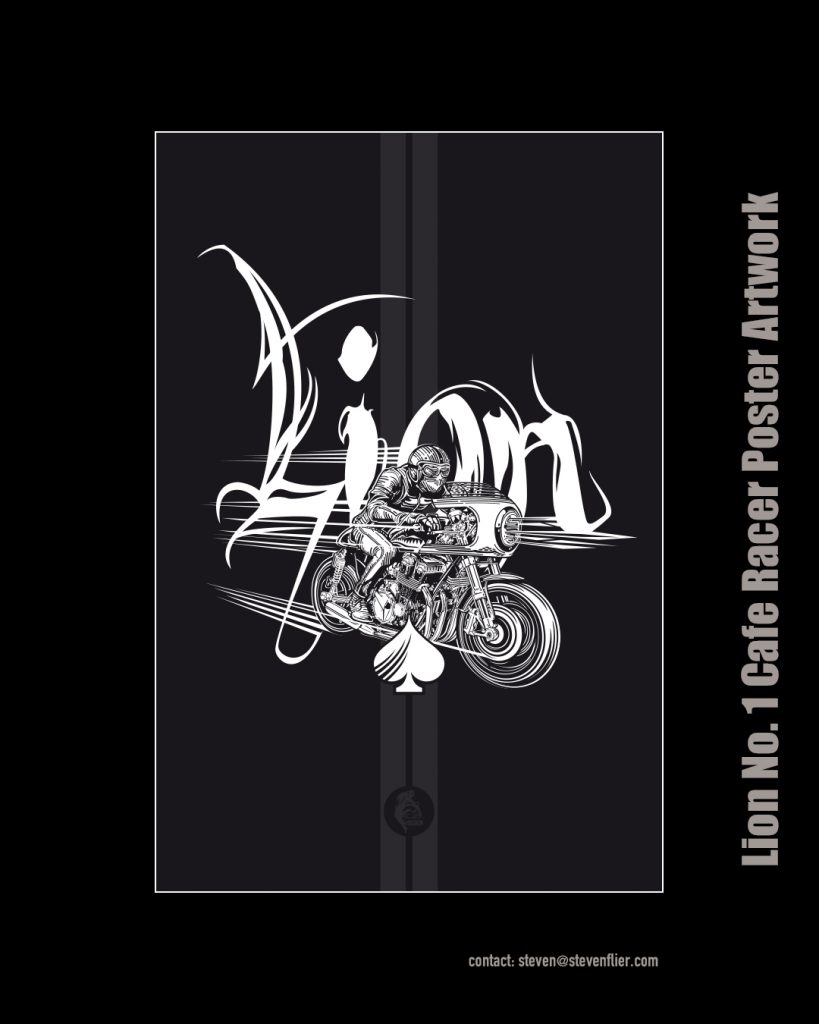 Als Vorlage diente mir die Honda CB750 »Barracuda« von @White Collar Bike (-> FB). Vorgestellt im @Inazuma Cafe Racer Blog (-> FB), Juli 2014. Ein wunderschöner wie auch »brutaler« Cafe Racer im klassischen Stil. Sehr passend für meinen »Löwen Nr. 1«.
I used the Honda CB750 »Barracuda« from @White Collar Bike (-> FB) as a model. Presented in the @Inazuma Cafe Racer Blog (-> FB), July 2014. A beautiful as well as »brutal« cafe racer in classic style. Very fitting for my »Lion No. 1«.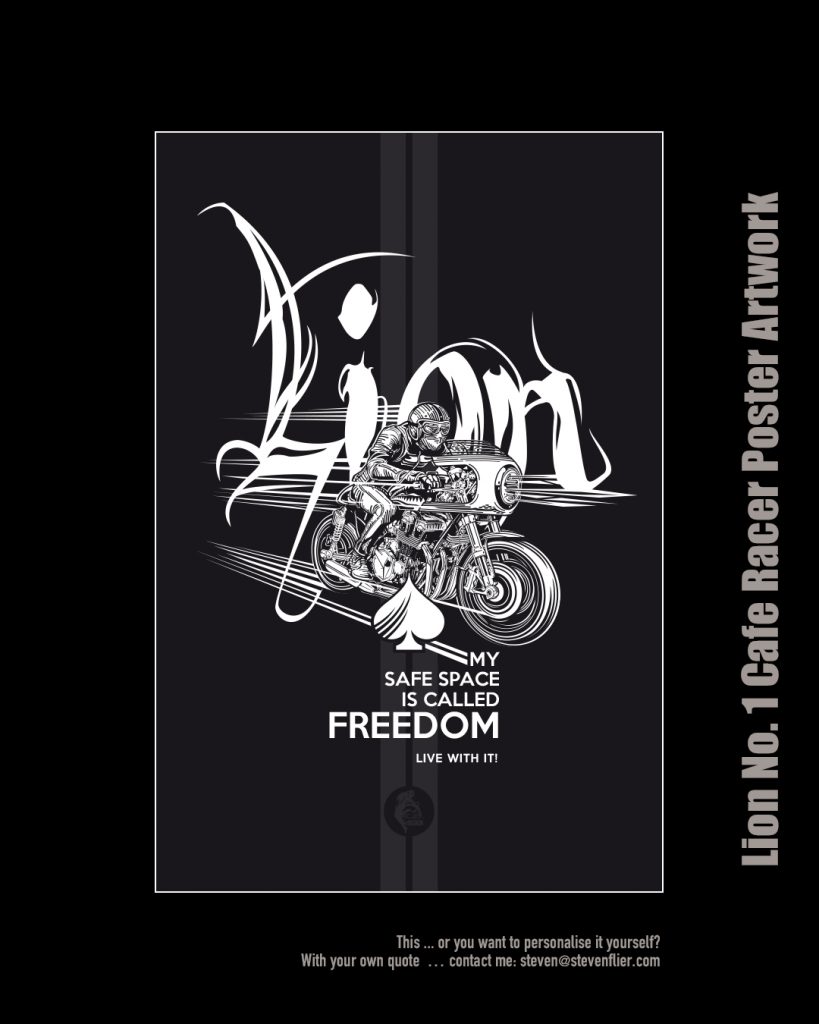 Dieses Motiv gibt es als Poster (Basis-Format 60 x 90 cm) wie auch als Textil-Motiv. Bei Interesse an einem Poster: Schreibt mir eine Mail und ich schicke euch die Basis-Infos zu Kosten/Material. Kontakt: steven(a)stevenflier.com. Für ein T-Shirt, Hoodie, Accessoire etc. -> besucht meinen Sierra Foxtrot Spreadshirt-Shop!
This motif is available as a poster (basic format 60 x 90 cm). If you are interested in a poster: Send me a mail and I'll send you the basic info about costs/material. Contact: steven(a)stevenflier.com. For a t-shirt, hoodie, accessory etc. -> visit my Sierra Foxtrot Spreadshirt Shop!
➡️ – Stevens Spreadshirt-Shop: sierra-foxtrot.myspreadshop.de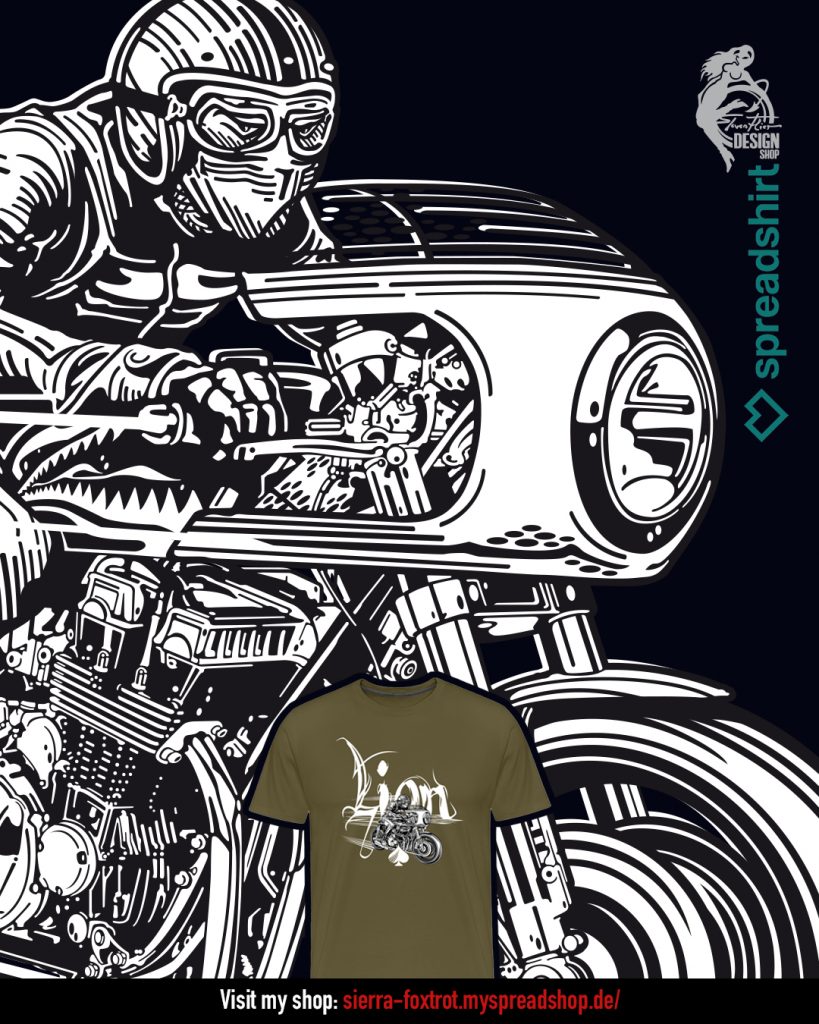 ::: Small Artist Business

Und … seien wir ehrlich. Um ein T-Shirt aka Hoodie aka Accessoire von einem dieser #smallbusiness und »unbekannten« Künstler-Spreadshirt-Shops wie dem meinen zu kaufen, musst man selbst mehr der »bad ass« Individualist sein. Sicherlich liegen ein oder mehrere dieser Mainstream-Wolfsrudel und großen Custom-Labels im Kleiderschrank – aber vielleicht gibt es darin auch diesen Bereich welcher für die »Specials« reserviert ist? Vielleicht die Arbeitskleidung für den nächsten Ölwechsel oder wenn es zu einem Treffen kommt und man es einfach nicht ausstehen kann, einer von einem Dutzend zu sein, die ebenfalls eines dieser »Freiheit & Wellen hinter dem Lenker« Teile tragen.
And … let's face it. To buy a t-shirt aka hoodie aka accessory from one of this #smallbusiness and »unknown« artist Spreadshirt shops like mine, you must be a bad ass individual yourself. For sure you have one or more of this mainstream wolf pack and big custom labels in your wardrobe – but possibly in there is also this part reserved for your »specials«? Perhaps as workwear for the next oil change or when it comes to a meet and great and you simply can't stand to be one of the dozen wearing some »freedom & wave behind handlebar« stuff.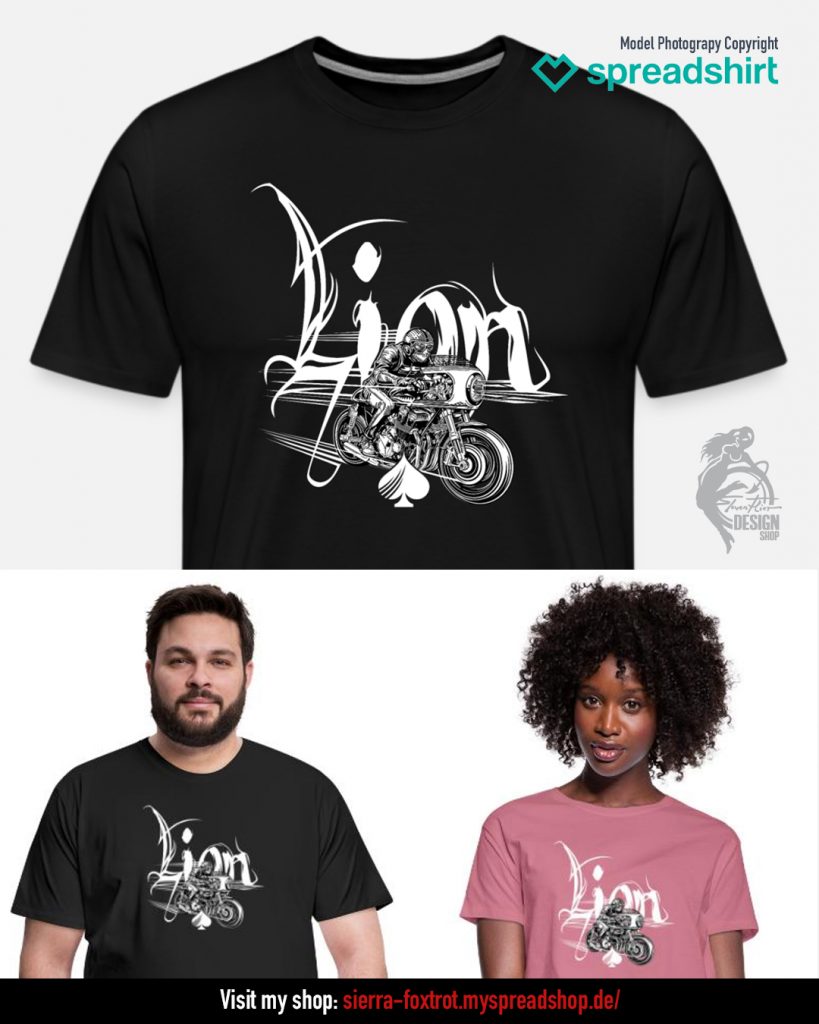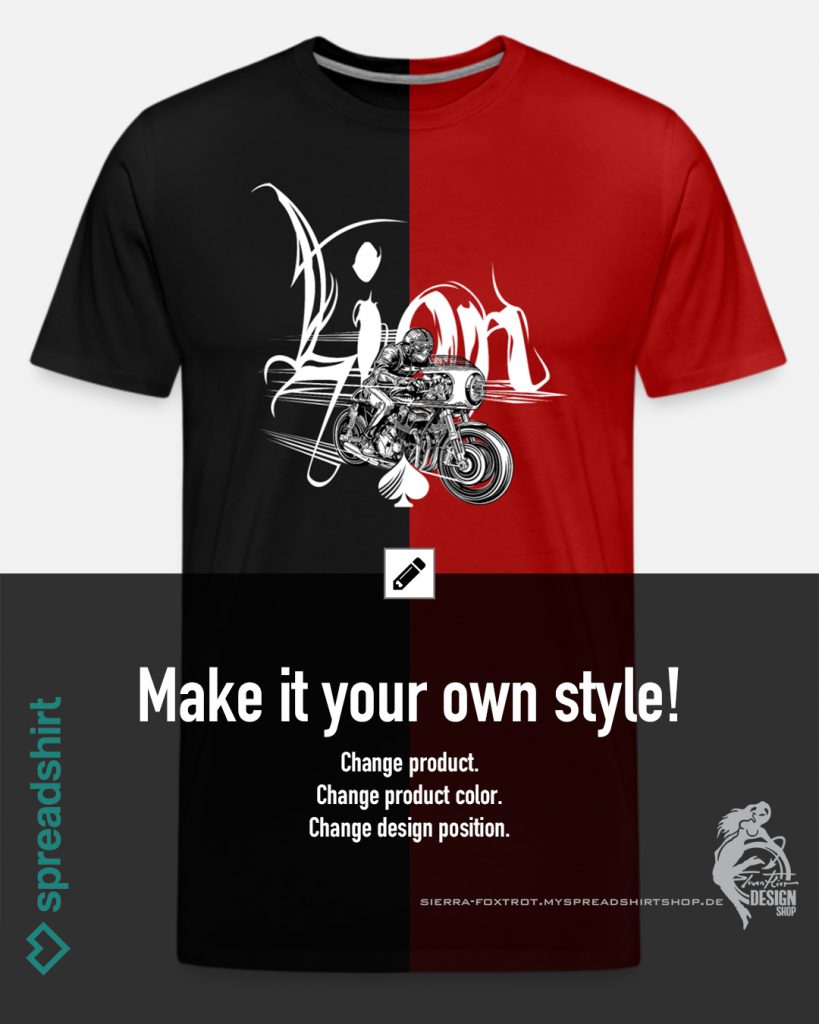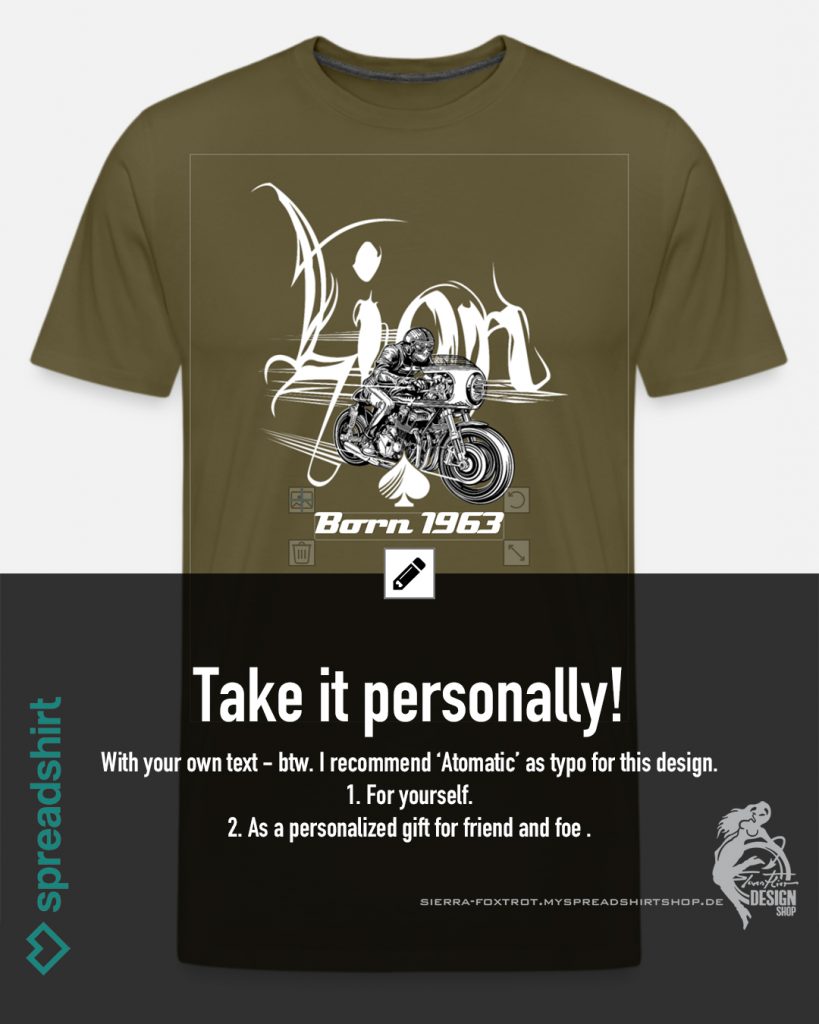 Nun, mein »Löwe Nr. 1« sollte dann gut passen. Zudem kann man ihm im eigenen Stil gestalten und »persönlich« nehmen – für einen selbst oder als tolles Geschenk für einen Freund oder Feind (bei starken Charakteren ist manchmal beides identisch – ☺️).
Now, my »Lion No.1« should suit you well. Too, you can make it your own style and take it personally – for yourself or as a great gift for a friend or foe (for strong characters sometimes both are kind of identical – ☺️).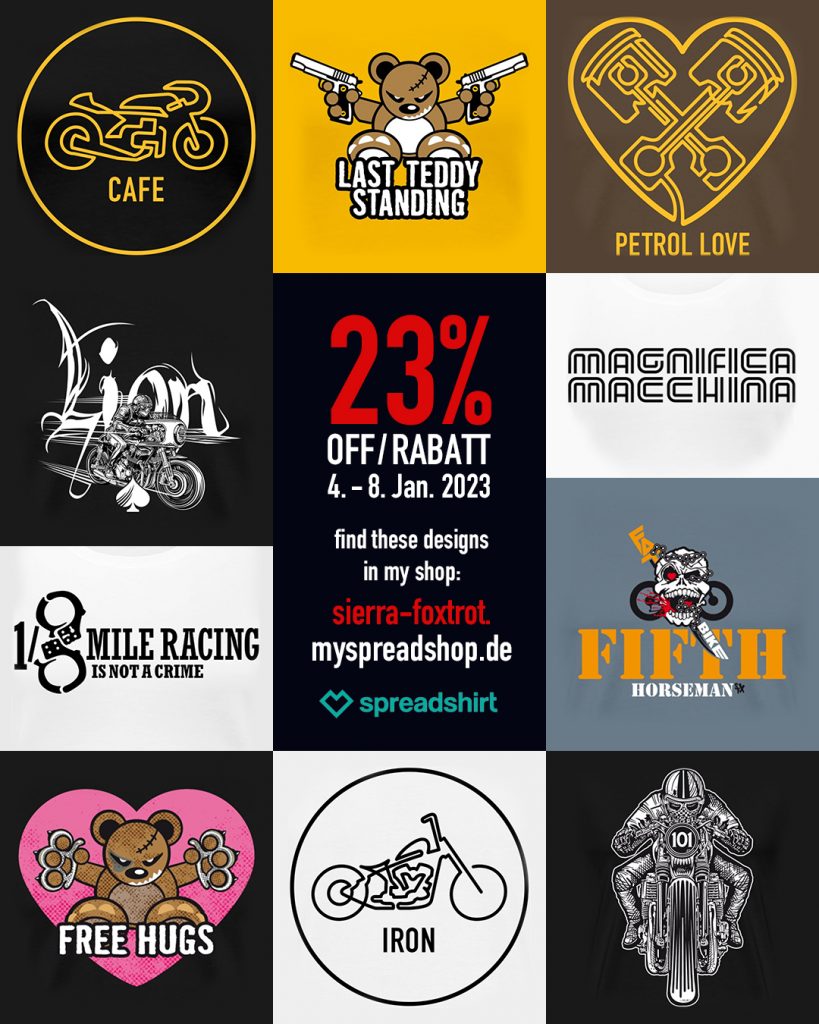 Hinweis- vom 4. bis 8. Januar 2023 gibt es bei Spreadshirt einen Rabatt von 23%! Besucht meinen »Sierra Foxtrot« Shop, um den »Lion No.1« Deal zu machen! | Note – from 4th to 8th January 2023 Spreadshirt offers a 23% off deal! Visit my »Sierra Foxtrot« Shop to get your »Lion No.1« deal!
➡️ – Stevens Spreadshirt-Shop: sierra-foxtrot.myspreadshop.de
::: Wie ich arbeite | How I work

Ich gebe es zu. In Zeiten von iPad und KI ist meine Art der Entwicklung einer Vektor-Illustration aufwändig. Es ist mehr Schmiede-Arbeit für das am Ende perfekte Messer. Reduziert auf das Wesentliche – jede Linie, jede kleine Form ist dabei wohl überlegt. Meine Illustrationen sollen Wirkung und obige Schärfe zeigen – ob nun auf einer Visitenkarte oder einer Bauplane gedruckt. Und um beim Beispiel Messer zu bleiben – am Ende, so schön es auch sein mag, steht nur die Frage: Ist es wirklich so scharf, dass ein Schnitt alles sagt?
I admit it. In times of iPad and AI, my way of developing a vector illustration is cumbersome. In the final it's more forging work for the perfect knife. Reduced to the essentials – every line, every little shape is well considered in the process. My illustrations are meant to show impact and the above sharpness – whether printed on a business card or a canvas cover. And to stay with the example of the knife – in the end, as beautiful as it may be, the only question is: Is it really so sharp that one cut says it all?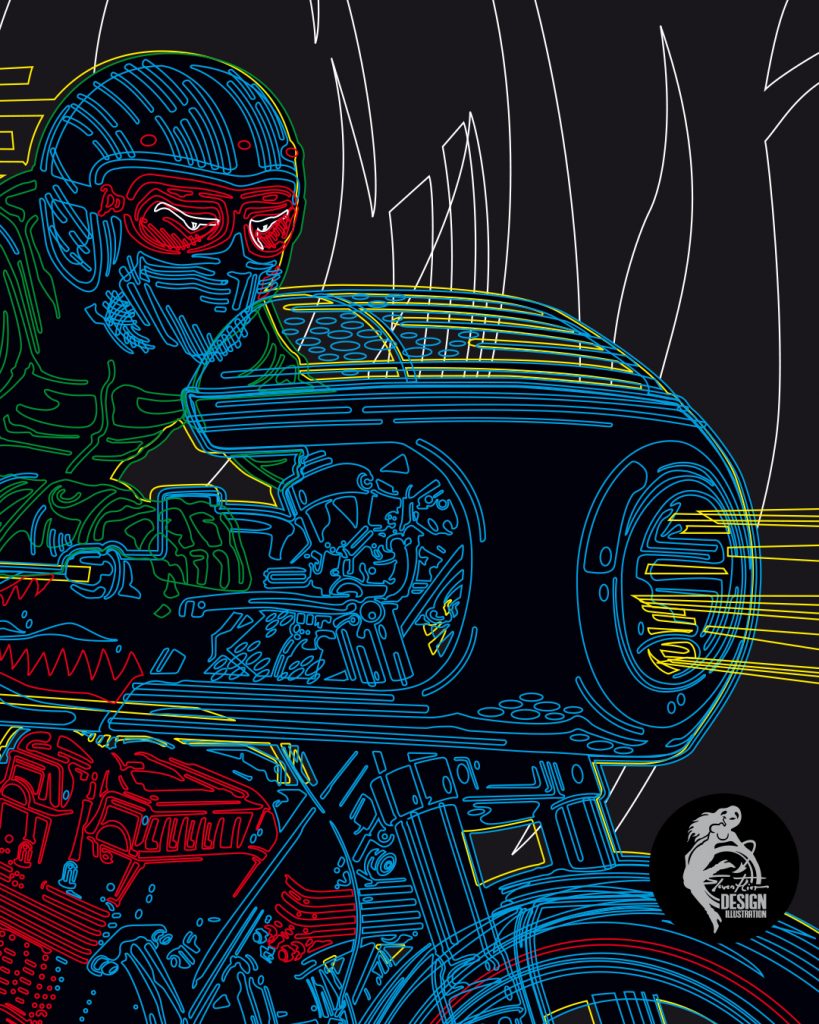 Neben Konzeption und Storytelling gehört es zu meinen Fähigkeiten, sowohl in der Vektor Illustration als auch im Logo- und Label-Design, diese Schärfe zu entwickeln. Wenn Sie einen scharfen »Cut« gegenüber Ihrer Konkurrenz benötigen, kontaktieren Sie mich: steven(a)stevenflier.com
In addition to concept and storytelling, my skills include developing this sharpness in vector illustration as well as in logo and label design. If you need a sharp »cut« against your competition, contact me: steven(a)stevenflier.com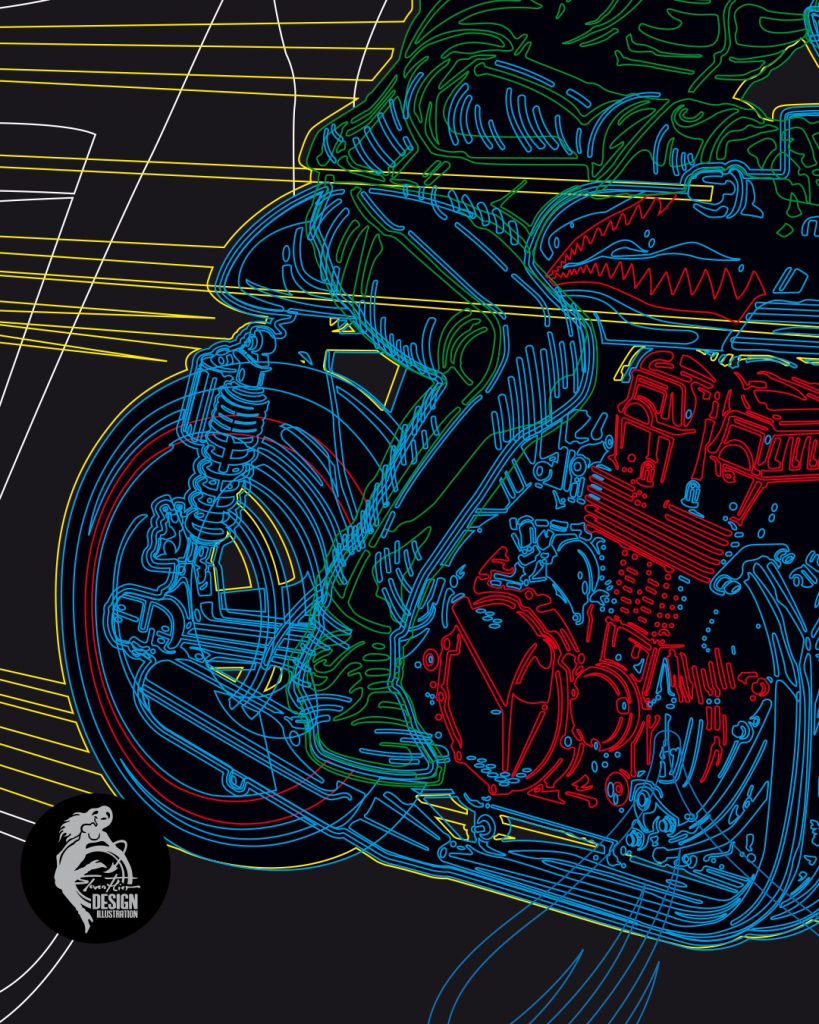 ::: Über mich | About me

Als Freelance Designer – Stichworte: #lovemyjob #creativityrules #imakecoolshit – freue ich mich, besonders in diesen mehr als »interessanten« Zeiten, über Anfragen zu Grafik, Logo, Illustration und Unterstützung & Storytelling um Ideen/Konzepte auf den Weg zu bringen. Für Ansichten und Beispiele meiner »Photoshop-Magie« – besucht meinen privaten Instagram Account: @stevenflier
As a freelance designer – keywords: #lovemyjob #creativityrules #imakecoolshit – I look forward especially in these more than »interesting« times, to receive your requests for graphics, logo, illustration and support & storytelling to get your ideas/concepts off the ground. For views and examples of my »Photoshop magic« – visit my private Instagram account: @stevenflier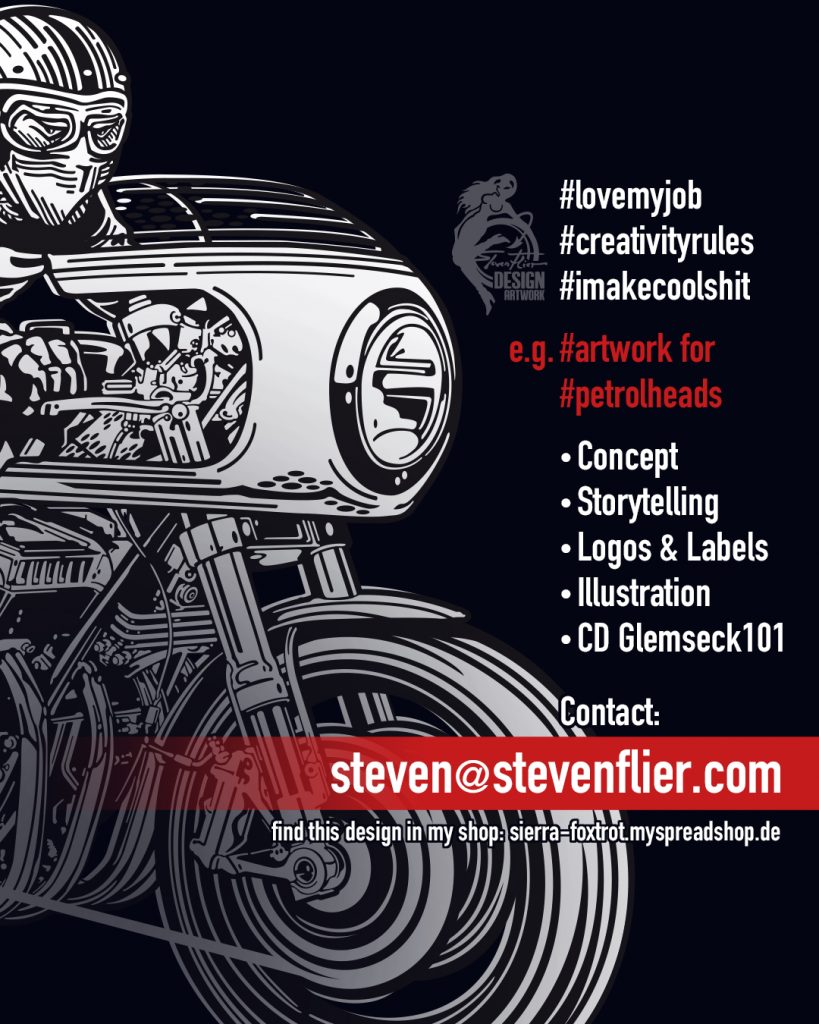 #supportartists – danke für euer »Like« und »Follow«, um über meine Arbeit neben dem @glemseck101 (-> FB) auf dem Laufenden zu bleiben – und ich wiederhole mich hier, in Zeiten wie diesen schätze ich dies um so mehr!
#supportartists – thank you for your »Like« and »Follow« t to stay tuned about my work alongside the @glemseck101 (-> FB) – and I'm repeating myself here, in times like these, I appreciate it all the more!
Euer | Your Steven Flier
Instagram: @stevenflier_design