Liebe Fans und Freunde | dear fans and friends,
🎄 – ich und das Team des Glemseck 101 wünschen euch einen frohen Nikolaustag sowie ein friedliches und schönes Weihnachtsfest!
🎄 – I and the Team of the Glemseck 101 wish you a happy St. Nicholas Day and a peaceful and beautiful Christmas!
Viele von euch werden meinen schnellen Nikolaus sicher erkannt haben – ich habe meinem 101 Cafe Racer, welcher das diesjährige Glemseck 101 Plakat zierte, dem Anlass entsprechend noch etwas »Weihnachts-Customizing« mit auf die kalte Meile gegeben: »Full -Rudi- Throttle«!
Many of you will have recognized my fast Santa Claus – I have given my 101 Cafe Racer, which adorned this year's Glemseck 101 poster, according to the occasion some »Christmas Customizing« to race the cold Mile: »Full -Rudi- Throttle«!
🎅 – Dieses Motiv gibt es ebenfalls – wie mein Glemseck 101 Plakat 2022 – als Poster (Basis-Format 60 x 90 cm, siehe Bilder). Bei Interesse: Schreibt mir eine Mail und ich schicke euch die Basis-Infos zu den Kosten. Kontakt: steven (a) stevenflier.com
🎅 – This motif is also available – like my Glemseck 101 poster 2022 – as a poster (basic format 60 x 90 cm, see pictures). If you are interested: Send me a mail and I'll send you the basic info about costs. Contact: steven (a) stevenflier.com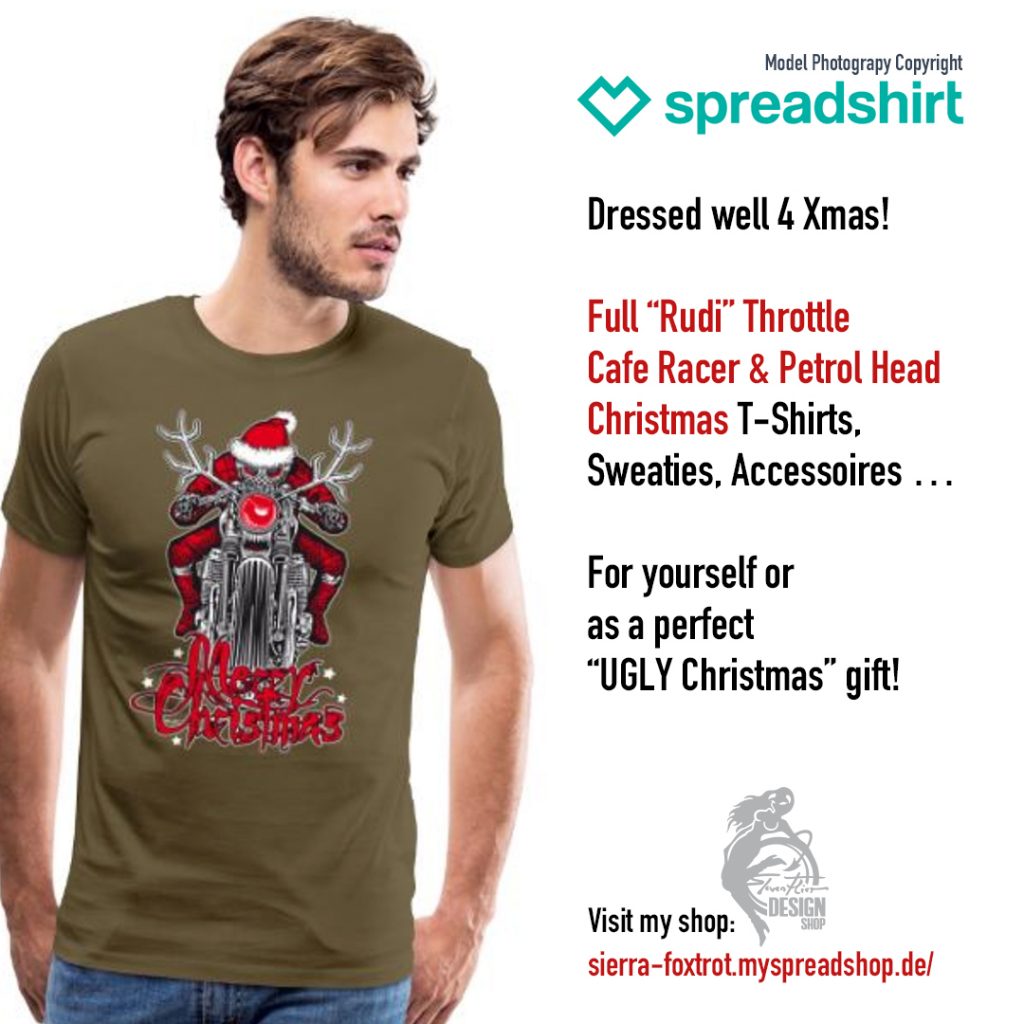 ⭐️ – Und – passend für Weihnachten 2022 im »UGLY Christmas« Style angezogen! T-Shirts, Sweaties, Accessoires … in meinem Sierra Foxtrot Spreadshirt-Shop. Als fertiges Produkt oder auch um selber damit ein für euch passendes Produkt zu gestalten.
⭐️ – And – well dressed for Christmas 2022 in »UGLY Christmas« style! T-shirts, sweaties, accessories … find them in my Sierra Foxtrot Spreadshirt shop. As a final product or even to design a suitable product for you with it.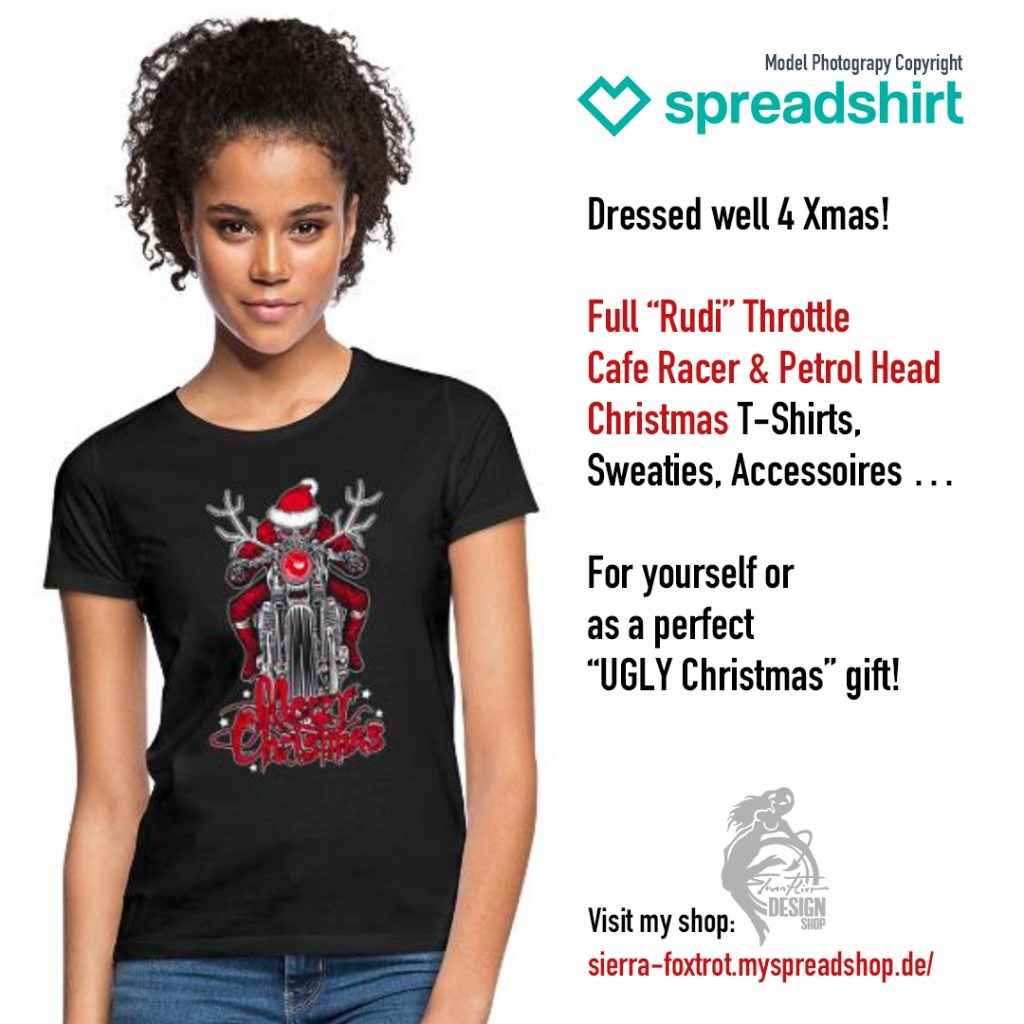 ♠️ Zum Schluss | Finally
Ich bin #freelance Designer – #lovemyjob #creativityrules #imakecoolshit – und ich freue mich – gerade in diesen mehr als »interessanten« Zeiten über eure Anfragen zu Grafik, Logo, Illustration und Unterstützung & Storytelling für eine eurer Ideen/Konzepte.
I'm freelance designer – Hashtags: lovemyjob | creativityrules | imakecoolshit – and I'm happy – especially in these more than »interesting« times about your requests for graphics, logo, illustration and support & storytelling for one of your ideas/concepts.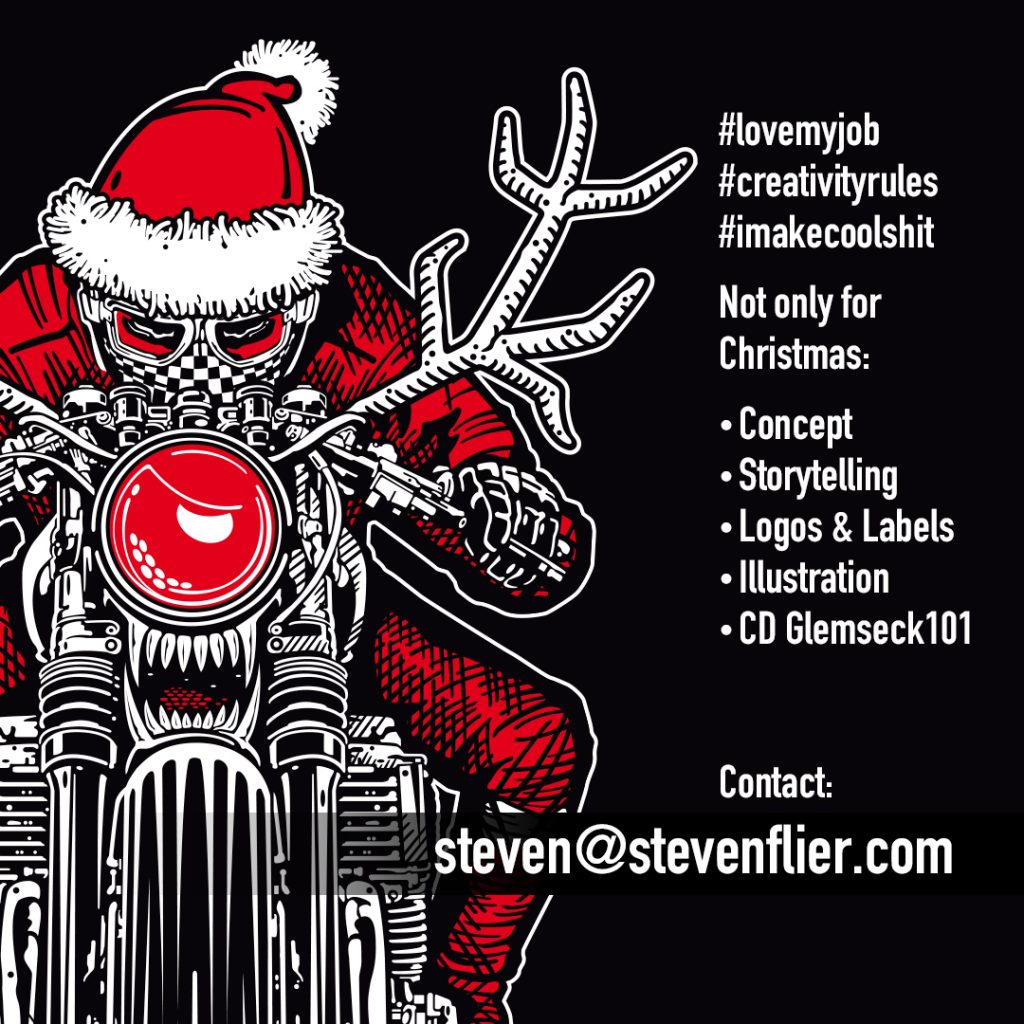 🖤 #supportartists – thank you for your like -> and/or follow to stay tuned about my work beside @glemseck101 (-> Instagram) – Appreciate it very much!
Your @stevenflier (-> Instagram – in person)
@stevenflier_design (-> Instagram – my studio)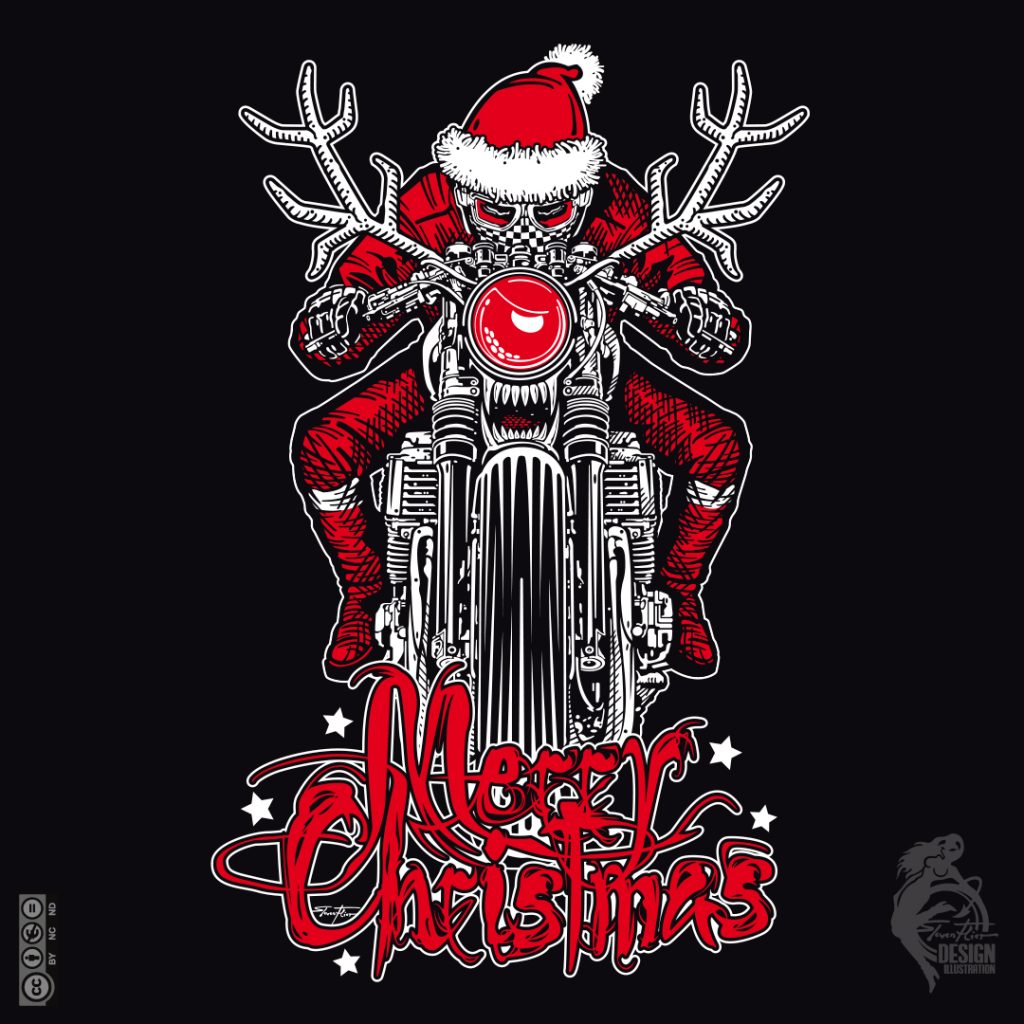 🖊 – Mein »101 Christmas Cafe Racer« steht unter CC Copyright – zur freien Verwendung. Nur privater Gebrauch, keine kommerzielle Nutzung, keine Veränderung.
🖊 – My »101 Christmas Cafe Racer« is under CC Copyright – for free use. Private use only, no commercial use and no modification.