Liebe Freunde und Fans der 1/8 Meile,
die Bewerbung ♣️♠️ für diesen 1/8 Meile Airfield Sprint ist GESCHLOSSEN.
(02. August 2021)
Dear friends and fans of the 1/8 mile,
the application for this 1/8 mile Airfield Sprint ♣️♠️ is CLOSED.
(August, 2nd 2021)
Alle ausgewählten 16 Teilnehmer werden von mir in den nächsten Tagen ihre Teilnahmebestätigung per eMail bekommen.
In the next few days all 16 selected participants will receive their confirmation of participation by email from me.
::: Hinweis – Liste »Ersatzfahrer«
Falls Du mit Deinem Classic- oder Cafe Racer aber sowieso vor hattest bei dieser Veranstaltung in St. Moritz vorbeizuschauen: Bewerbe Dich gerne noch für meine Liste an »Ersatzfahrern«, wenn Du spätestens am frühen Morgen des 11. September vor Ort bist.
::: Note – list of »substitute riders«
If you were planning to come to this event in St. Moritz with your Classic or Cafe Racer anyway: Feel free to apply for my list of »substitute riders« if you will be there on the early morning of 11th September at the latest.
Ich selbst bin ab jetzt aktuell in Urlaub und ab dem 23. August wieder offiziell erreichbar. Bis dahin eingehende Bewerbungen von euch als mögliche »Ersatzfahrer« werden dann von mir ab diesem Zeitpunkt schnellstmöglich beantwortet.
I myself am currently on holiday and will be officially available again from 23rd August. Any applications from you as possible substitute riders« will be answered by me as soon as possible from this date on.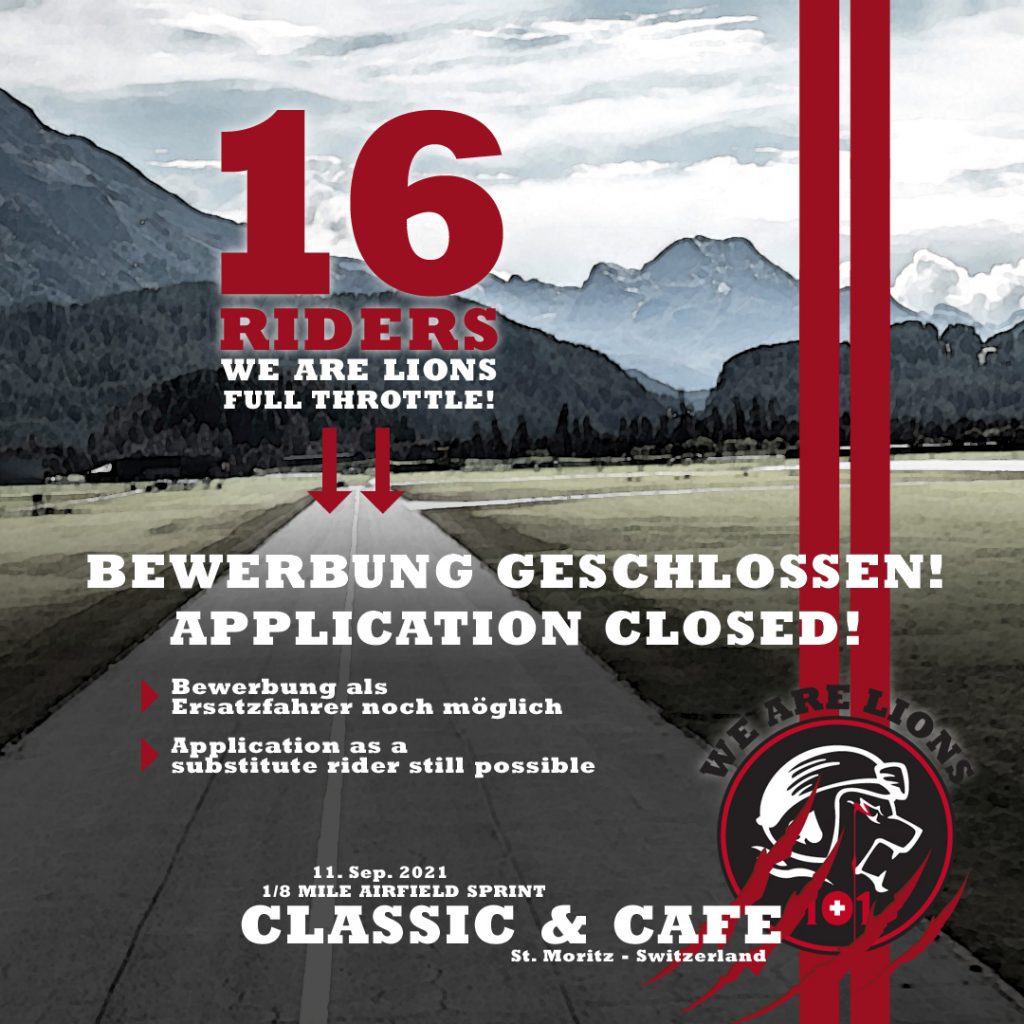 Schreiben wir ein klein wenig Motorradgeschichte und fahren 2021 den vielleicht einzigen 1/8 Meile Sprint in Europa – 🏁 – Im Rahmen der Veranstaltung »Kilomètre Lancé« – 🇨🇭 – 10. – 12. Sep. 2021.
Let's make a little bit of motorbike history and ride the perhaps only 1/8 Mile Sprint in Europe in 2021 – 🏁 – as part of the »Kilomètre Lancé« event – 🇨🇭 – 10. – 12. Sep. 2021.
Dafür suchen ich, Steven Flier, und Jörg Litzenburger, 8 (acht) bzw. 16 (sechzehn) Fahrer & Fahrerinnen von Classic Racern oder Cafe Racern für eine gemischte 8er oder 16er 1/8 Meile Start-Aufstellung. Abhängig von der Anzahl der eingehenden UND passenden Bewerbungen.
For this, I, Steven Flier, and Jörg Litzenburger, are looking for 8 (eight) or 16 (sixteen) male & female riders of Classic Racers or Cafe Racers for a mixed 8' or 16' 1/8 Mile starting line-up. Depending on the number of incoming AND suitable applications.
Location: Airfield / St. Moritz / CH – ♣️♠️
Datum/Date: Samstag/Saturday -11. September 2021 – 🏁
Event: www.kilometre-lance.com
Die offizielle Bewerbung ist seit Sonntag den 01. August 2021 GESCHLOSSEN. Bewerbe Dich gerne noch für meine Liste an »Ersatzfahrern« per eMail.
The official application is CLOSED since Sunday, August 1st, 2021. Feel free to apply for my list of »substitute riders« by eMail.
Ein weiteres Highlight: Zwei von euch Teilnehmern werden auch auf den »Kilomètre Lancé« geschickt – nachdem die Veranstaltung benannt und der die Historie dahinter ist: Eine Solo-Zeitfahrt über 1.000 Meter – Vollgas!
Another highlight: two of you participants will also be sent on the »Kilomètre Lancé« – after which the event is named and which is the history behind it: A solo full throttle time trial over 1.000 meters!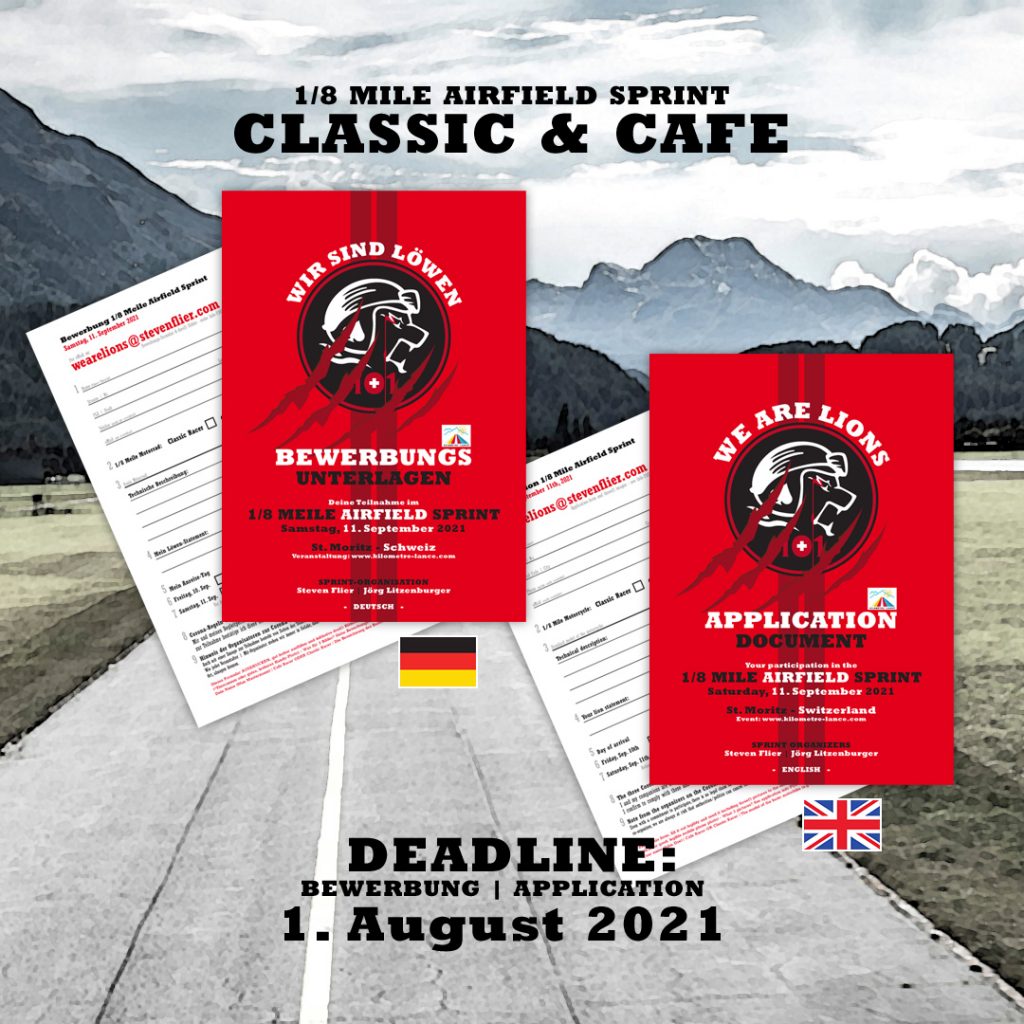 Alle Informationen zu diesem ganz besonderen »Wir sind Löwen – 1/8 Meile Airfield Sprint«, die Story, das gemischte Technisches Reglement für Classic und Cafe, und natürlich das Bewerbungs-Formular und die eMail für eure Bewerbung – findet ihr in diesem PDF (Sprache: Deutsch)
Bitte lest das PDF sorgfältig und haltet euch an die von mir darin formulierten Regeln zur Bewerbung! Ihr unterstütz damit meine »Solo-Flug(!)« Arbeit in dem engen Zeitfenster und im Vorfeld der Organisation dieses besonderen 1/8 Meile Sprint. Dankeschön!
::: PDF-Bewerbung-Achtelmeile-KML2021-CH (Deutsch)

All information about this very special »We are Lions – 1/8 Mile Airfield Sprint«, the story, the mixed technical regulations for Classic and Cafe, and of course the application form and the eMail for your application – you can find in this PDF (Language: Englisch)
Please read the PDF carefully and keep to the application rules I have formulated in it! You support my »solo flight(!)« work in the tight time frame and run-up of the organization of this special 1/8 Mile Sprint. Thank you very much!
::: PDF-Application-Eighthmile-KML2021-CH (English)

»Wir sind Löwen – Let's ROAR!« – und 2021 etwas Motorradgeschichte schreiben! Öffnet das PDF, lest es und wenn ihr euch darin als passenden Classic oder Cafe wiederfindet: Bewerbt euch! ♣️♠️
»We are lions – Let's ROAR!« – and make some motorbike history in 2021! Open the PDF, read it and if you find yourself in it as a suitable Classic or Cafe: Apply! ♣️♠️
Steven & Jörg
#WeAreLions | #SeriousEighthmileBusiness
And also »Thank you!« if you follow me, Steven Flier, on Instagram!
In person: @stevenflier
Studio and events: @stevenflier_design
::: NEWS: 07.07.2021 – Wanted – Power Class
Diese 1/8 Meile News hat sich erst heute am 07. Juli ergeben! Jörg Litzenburger und Motor Journalist Tobias Aichele | Solitude GmbH und Mit-Organisator des »Kilomètre Lancé suchen Teilnehmer/innen für einen gemischten Power Class 1/8 Meile Sprint.
Wie sie in »meinem« Glemseck 101 »Sprint International« oder in der Sultans Classic Dragster Klasse am 101 teilnehmen: Individuelle, leistungsstarke Motorräder. Das war's. Keine weiteren Regeln.
Interessenten bewerben sich direkt bei Jörg oder Tobias. Und ich werde natürlich ebenfalls ein Auge auf diesen Sprint werfen – für eine mögliche Vorauswahl an Favoriten in 2022.
This 1/8 mile news only came up today on July 7th! Jörg Litzenburger and motor journalist Tobias Aichele | Solitude GmbH and co-organizer of the »Kilomètre Lancé are looking for participants for a mixed Power Class 1/8 Mile Sprint.
As they participate in »my« Glemseck 101 »Sprint International« or the Sultans Classic Dragster Class at the 101: Individual, high-performance motorcycles. That's it. No further rules.
Interested parties apply directly to Jörg or Tobias. And of course I will also keep an eye on this sprint – for a possible pre-selection of favorites in 2022.
::: Power Class Contact/Kontakt:
Jörg Litzenburger: +49 (0) 177 76 190 75
Tobias Aichele: +49 (0) 7159-9307490
www.solitude-gmbh.de | info(a)solitude-gmbh.de
#WeAreLions | #SeriousEighthmileBusiness